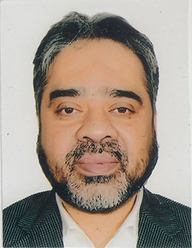 Mr. A. K. M. Nurul Fazal Bulbul
Director, IIFC & Vice Chairman, Central Depository Bangladesh Ltd.
A.K.M Nurul Fazal Bulbul born in 1960 at Wari in Dhaka is popularly known in Bangladesh society as a social and corporate Personality. He completed his Bachelor of Commerce (Honors) and Masters in Business Management from the University of Dhaka in 1985. Later on he obtained LLB and enrolled in the Supreme Court Bar. Started his career as Management and Tax Consultant. Then he started supply & trading business in 1991 and established Meena Printers & Packaging in 1995.
He is the Co-founder of (1) EXIM Bank Ltd., (2) Sunlife Insurance Co., (3) Japan-Bangladesh Medical Associates, (4) Ei Floor Group etc. He is Vice Chairman of Central Depository Bangladesh Ltd. (CDBI) and Director of Infrastructure Investment Facilitations Company (Govt. owned PPP service Provider Company) from 2011 and BCl Board. He is the Advisor of Japan-Bangladesh Hospital, Sunlife Insurance Co., AML Group and Doreen Power Generation Co. etc. He served as Founder Board Audit Chairman of EXIM Bank for route than a decade. He was the Director of FBCCI, SAARC Chamber, OIC Business Forum, Central Zakat Board and FBCCI Foundation. In mid 1990 he served as Group Management Consultant / Advisor of Akij Group. Navarra Group. Padma-Sonali Group & Swedish Motors as well. He achieved 4 (Four) times CID status.
He is the Trustee of two reputed University of Bangladesh and Secretary of Research & Training, Bangladesh Association of Banks (An apex body of 38 private Banks of the country) Vice Chairman of Islamic Banks Consultative Forum (IBCF -An apex body of Islamic Banking Industry of the country). He is working as Secretary General of Gulshan Central Mosque & Eidgah Society.
Other than corporate affairs he vastly involved in CSR activities and sports through EXIM bank Foundation as Secretary General and El-Noon Foundation as Coordinator. Also he served as Editorial Chief of one national daily. Moderator of many national seminar and workshop. And participated many international seminar and summit. He has two popular publications. He received many prestigious awards. He is one of the Patrons of Army Golf Club and permanent Member of the most prestigious ancient - Dhaka Club Ltd and involved with many national organizations. As like Anjuman, NATTAB. BOA, BFRD, BIRDEM, Cancer Society, Peace Council, IRS, Gulshan Eidgah Society. Commonwealth Society. NGHSA, SEACO. Private University Association and Bangladesh Bar Council.
The Government appointed him as "chief of Bangladesh Mission to London Olympic, 2012" and Delhi Commonwealth Games, 2010. He is the President of Bangladesh Handball Federation since 2008. He widely visited more or less one hundred countries and cities of the world.
His father late M. Noor was imminent Gazetted Civil Servant and mother late Fazilatun Noor was social worker. His wife Advocate Shaila Bulbul was ex APP of Dhaka Judge Court and Notary Public for whole Bangladesh. His only son Ahmed Halls Arafat and two daughters Nalisa Mena and Nafsa Madina are still studying under Cambridge. His sister and brothers are well established in their respective field. His Fore-father from Munshigonj-Bikrampur and his Grand-father late Ayet Ali Master was a popular school teacher the then British India and a Sincere flower of British-Indian independence movement.
Mr. Bulbul was elected General Secretary of National Student League In 1984 then he elected unanimous president. He played significant role in democratic movement in 1990 and took the charge of the Chairman of central youth league. With this continuation he was elected as member of central secretariat in Bangladesh Awaml League Central Committee for two terms from 1992 to 2002. Long decade he served as Founder Executive Committee Member of the Father of the nation Bangabandhu Sk. Mujib Memorial Museum at Dhanmondi. Although In new century, he totally apart from the politics and religiously involved in corporate social life.